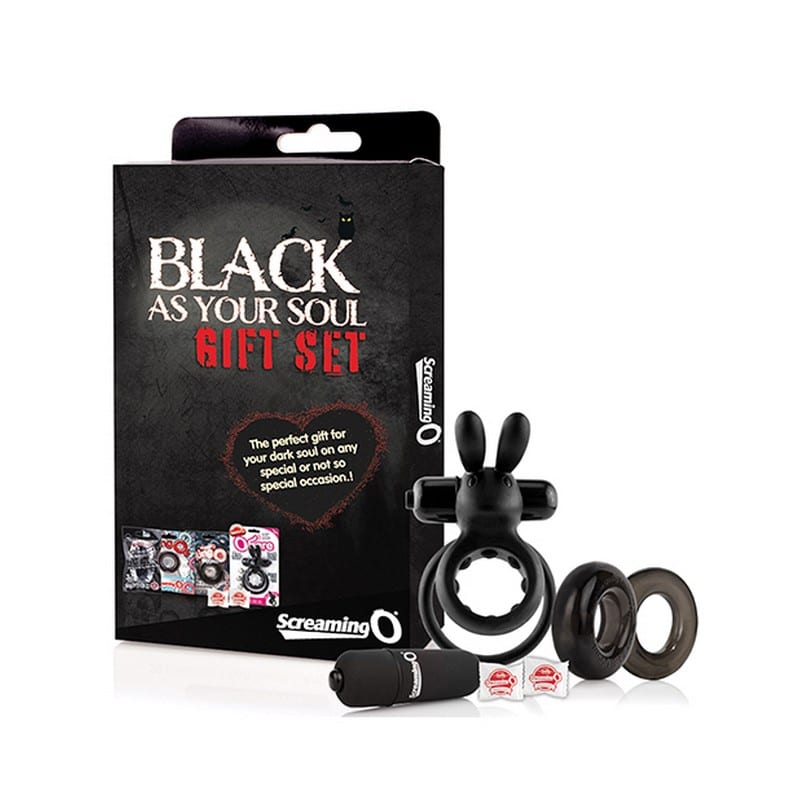 Black As Your Soul Gift Set includes 4 different items. Screaming O Soft Touch Vooom Bullet Vibrator, Screaming O Ohare Wearable Rabbit Vibrator, Screaming O Ring O Ringos and Ring O Biggies Cock Ring.
SoftTouch Vooom Bullets combine the compact shape, 4-function motor, and soft coat of Screaming O's famous Soft Touch Bullets with a one of a kind low frequency motor for sensations unlike anything else on the market. Following research into vibration frequency and optimal clitoral massage speeds has a unique motor that buzzes with deep rumbling vibration you can feel from the inside. And thanks to a 100% waterproof soft-touch shell, users can enjoy smooth, gliding sensations in the bath or shower! These portable mini vibes pack intense power in an on the go size that's perfect when larger, bulkier vibes just won't cut it and add essential stimulation for better, more satisfying sex!
Ring Os are one of our most popular sex toys thanks to their simple and effective design. These super stretchy cock rings have one purpose to help keep his erections strong and hard. No bells and whistles, just straight up better sex! Simply stretch the Ring O's tightly around your penis and testicles and position it directly at the base of the package the snug fit is what helps restrict blood flow to the penis, which is how it helps keep it harder for longer. Users also may feel more sensitive, a heightened sense of pleasure, and some Ring Os fans experience more powerful orgasms. Ring O's are also reusable just give them a wash with soap and warm water and enjoy one of the best adult toys on the market!
RingO Biggies are a thicker version of one of our more popular cock rings and feature a tighter, firmer fit that makes a massive impression. These stretchy cock rings offer simple, no frills enhancement that can be worn either around the penis or the penis and testicles, you choose how you would like to look and feel! Whether enjoying longer lasting sex with a partner, amping up endurance training, boosting masturbation or sporting a more prominent package, RingO Biggies are the premium choice for impressive results. The perfect gift for your dark soul.
The post Black As Your Soul Gift Set appeared first on Toy Shop. Enjoy The Joy. .
To Discover More About This Product Visit Intimate Tickles Here