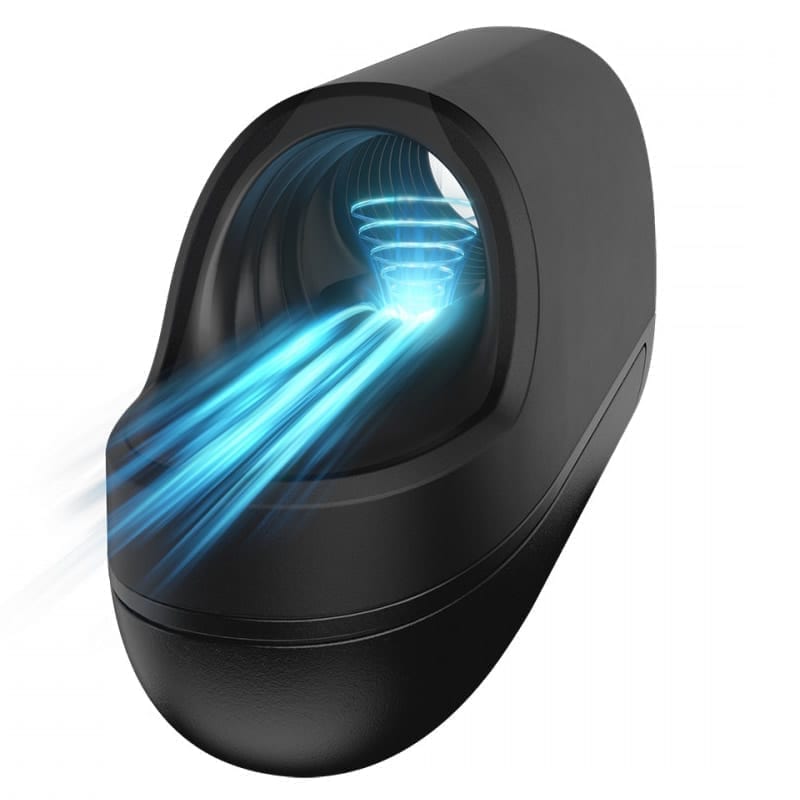 Meet the world's first Pleasure Air

stroker. Experience a new type of orgasm as unique pulsating airwaves stimulate sensitive Pacinian pleasure receptors in the frenulum.
Pleasure Air

  – Experience a powerful new type of stimulation based entirely on pulsating airwaves. The Ion targets the Pacinian pleasure receptors in the frenulum, creating an intense orgasm.  Pleasure Air is a patented technology developed by Arcwave

. It is an innovative new type of stimulation that is based entirely on changes in air pressure to target highly sensitive nerve endings, leading to a powerful new type of orgasm.
Why is this innovative?  This type of stimulation allows you to target receptors that other technology cannot, namely the Pacinian pleasure receptors. These highly sensitive nerve endings are located in the frenulum at the tip of the penis and respond well to changes in air pressure. Nerve endings have no gender identity.  During fetal development, the penis and the clitoris have the same tissue origin; the glans clitoris finds its counterpart in the frenulum, located on the underside of the penis. Women are often said to experience more varied, more intense orgasms than men (albeit less frequently), due to a higher concentration of Pacinian receptors located in the clitoris. Less well known is the fact that the same nerve endings (Pacinian receptors) that are responsible for clitoral orgasms exist in the male body. The challenge for Arcwave was to find a way to target them. The answer is Pleasure Air stimulation.
Pleasure Air

engineered for the male body  Pleasure Air

Technology transformed the industry when the Womanizer brand launched it in 2014. Unlike traditional vibrators, it works through changes of air pressure to deliver more powerful clitoral orgasms. Arcwave technicians took on the challenge to re-engineer Pleasure Air

for the male anatomy. Generating more powerful pressure waves, a wider surface spread, and after 13 rounds of prototypes, something special happened. Testers reported orgasms as being more intense, more varied, with a build-up never experienced before. So similar were the descriptions to those of the female orgasm that wider research was commissioned to compare the two directly.
Looking at the results below, testers reported a rollercoaster ride to climax while using Ion:
How does it feel?  Testers described a more varied build up, waves of sensation and a powerful release. Pleasure Air uses pulsating airwaves to suck and massage your penis to a brand-new type of orgasm, one that is not achievable by stroking alone.
Smart Silence

   It's only on when it should be on. Stimulation starts and stops automatically as Ion senses skin contact.
Your Ion should only be on when it needs to be. Finding the OFF button in a hurry can be a major turn-off or even ruin the moment. Smart Silence technology has been designed to address this problem. Using advanced sensor technology, it knows when you want stimulation. Based on skin contact, it automatically switches on or off, allowing you to sit back, relax, and enjoy the moment. In the case of the Ion, Smart Silence has 8 intensity levels to choose from, meaning you can tailor the stimulation to your desire.  Never worry about any unwanted noise again, just let Smart Silence turn off your product for you. Finally, smart technology that just makes sense.
CleanTech Silicone CleanTech silicone is easy to clean, feels natural and is more hygienic and durable than industry standards.  CleanTech silicone is only available within the Arcwave range. Its high density and biocompatibility make it safe from pathogens and germs.  In addition, CleanTech silicone is hypoallergenic and resistant to UV-light, making it more durable and hygienic than conventional materials on the market. This means that Arcwave products are much easier to clean, more hygiene and easier to keep fresh.
Twist to Open
Enjoy the moment and don't worry about aftercare. Arcwave has designed an innovative opening mechanism to make cleaning easy.   With Twist to Clean, simply twist your Ion to separate the CleanTech silicone sleeve from the device. Once separated, you can simply submerge the sleeve in water to clean as Ion is completely IPX7 waterproof.   What about drying? Twist to Clean works in tandem with the innovative charging base to ensure your Ion dries quickly and efficiently. After cleaning, simply return the Ion to the charging base where the integrated DryTech stick wicks away excess moisture to keep your Ion in prime condition.
The post Arcwave Ion appeared first on Toy Shop. Enjoy The Joy. .
To Discover More About This Product Visit Intimate Tickles Here