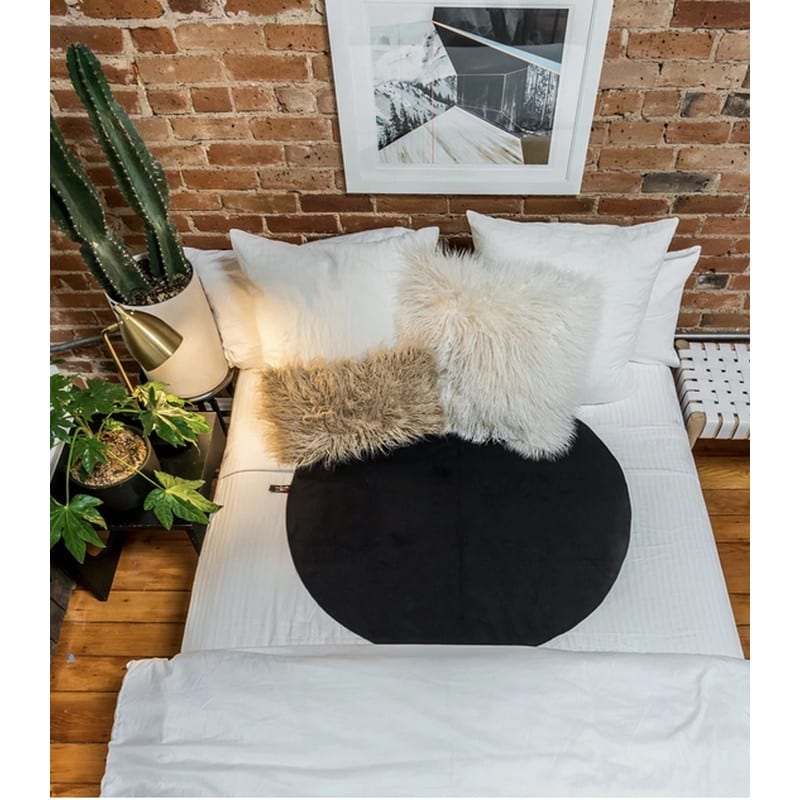 The Layer between you and the sheets when you want to get down.  Nothing gets through.  Absorbent, Waterproof, Soft and Durable.    No one wants to sleep in *that* spot……or be *that* person who ruins the sheets.  The Layer is an extraordinary piece of fabric that protects your sheets (or couch or car or stairs or wherever you are) when you want to get down.    The Layer saves time, money, and embarrassment.
Travel Clutch (comes with The Layer)  Convenient travel clutch so you can bring The Layer with you anywhere you go – discretely!  Made of the same material as The Layer with a simple velcro closure. It looks like an evening bag! Well, it is an evening bag (and a morning bag, midday, afternoon, sunset…) (Unbelievably)
Features:
absorbent, waterproof organic cotton fleece intimacy blanket
Travel size – perfect for bedside table, overnight bag, glove compartment
Round, 40″ in diameter
Tested to withstand 300+ washings
Eco-friendly
Fabric content: 80% Organic Cotton, 12% Polyurethane, 8% Lycra (Spandex/Elastane)
Breathable & flexible
Hypoallergenic
100% Free of PFAS & PFOA
Made in the USA
Care Instructions: No Prewash, wash hot with like colors. Dry medium. No fabric softener. Only non-chlorine bleach if needed. Warm iron if needed on fabric side. 300 washes on average.
The post The Layer appeared first on Toy Shop. Enjoy The Joy. .
To Discover More About This Product Visit Intimate Tickles Here