Few pieces of BDSM gear contain more meaning than the collar. While some couples use the collar all the time, for us it forms part of our ritual of play. We always starts with a collaring ceremony that for us is full of meaning. It's a special moment that symbolizes our passage from our everyday lives into the unique cocoon of our kinky play.
This article marks our first time submitting an article for Kink of the Week on Molly's Daily Kiss.  As a long-time kinky couple and aspiring sex bloggers, we're very excited to take part in this fun game. And since the holidays are so near, here's a fun photo that shows the joy and fun inherent in our kinky play.
It's all about trust
We've written before a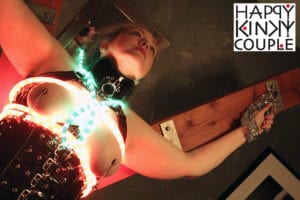 bout how trust forms one of the cornerstones of BDSM .  As switches we each find elements of both submission and dominance seductive and highly erotic. We've established a pattern with alternating roles each time we play.
Although the change of roles is challenging for many kinksters who identify as switches , for us it's relatively easy. Our collars signify the deep trust and respect that we hold for each other, and for our relationship.
Many BDSMers believe that submission is a gift. We don't necessarily hold to the concept. For us, dominance and submission are a process built on shared experiences and the knowledge that we share responsibility during our play sessions.
The collar as a symbol
Both of us wear collars as symbols of our commitment and love, both in and out of our play space. Of course, the collar is also a powerful physical sign of the our kinky fun. We love to play hard and the it's great for physical control, reminding the submissive partner of their place, and the sexy way it looks.
After we finish playing, our collars are stored until the next play date. But in a way, they're always around our necks in spirit.
Yours in kink,
Amelie & Mark


The post Kink of the Week Dec 1-16, 2018: Collars appeared first on The Happy Kinky Couple .
The authors at Intimate Tickles found this article to be quite interesting, and we though you might like it as well. This articles was originally posted at
happykinkycouple.net
by
Amelie & Mark
Read This Awesome Article In It's Entirety At It's Original Location