Once Mark and I began our kinky explorations together, it felt like driving through landscapes we had never imagined. Around each bend was a new concept of what partners enjoyed and used to find sensual connections.  We quickly discovered we both loved latex, impact play, e-stim and bondage. As time went on, this added up to a lot of gear.
We know many folks with limited options for building a designated dungeon or play space (the term we prefer). Some carve out a corner in the garage, or have a large closet that can provide some storage. With a small guest room that was under-used, we decided to put a lock on the door and make it our private, sensual space.
The candy counter
The next challenge was choosing furniture that made sense in our small room. We shopped at several kink events in our region, where the super-sized dungeons offered extensive furniture options to explore. Most of these venues also had vendor areas with every kind of toy, tool, instrument and accessory we could imagine. Like a trip to See's for a piece of chocolate, there were many tough choices to make.
Options for small spaces
Obviously, these choices reflect our interests, so your list may look very different. Our point is simply to share some of our thoughts and what we learned along the way.
Bondage Cross – is the largest piece in our room is for stand-up play. It's a great spot to spank, flog, tickle, tease and zap. The support is perfect for longer sessions and we added a pad on the base for our feet. We built our cross with a hardware set we bought from Dungeon Delights. ($$ savings) and it adds a powerful visual vibe to our room. This thing means business.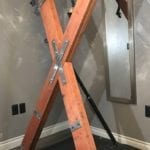 Spanking bench – this can be anything you are comfortable with for spending time on your knees. A solid chair, a bench, or even a stool (knees on the floor) can work as long as you provide enough padding.  Sturdy legs or arms that allow for binding may be a plus (it is for us!). Using the money we saved with our bondage cross, we invested in a high-quality spank bench from Rupert Huse and Son.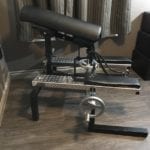 Everything in its place
Storage chest or rack – a place to keep things neat. We found it helpful to have a chest with specific drawers for anal toys, one for smaller impact and medical tools, and one for vibrators. We found a rack at a re-use store that is perfect for larger toys. Once a retail display, we attached it to the wall and bought a bunch of black "s" hooks at the hardware store to keep floggers, whips, crops and paddles in easy reach.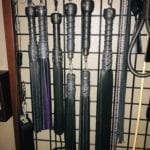 We also put in a cushioned vinyl floor for the inevitable spills. Other accessories include some art we found online, candle sconces on the walls, and thick dark curtains for setting a deep mood even on sunny days. Also, we picked up a sexy and sturdy chair that we use for all sorts of fun stuff.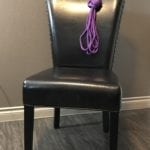 It's your choice
Shopping and creating the vibe for your personal space is definitely worth the extra time and thought. It is, after all, your intimate space so design it to reflect your interests and turn-ons.
And don't forget a lock for the door!
Amelie, gal half of the HKC
The post Building a kinky play space appeared first on The Happy Kinky Couple .
The authors at Intimate Tickles found this article to be quite interesting, and we though you might like it as well. This articles was originally posted at
happykinkycouple.net
by
Amelie & Mark
Read This Awesome Article In It's Entirety At It's Original Location